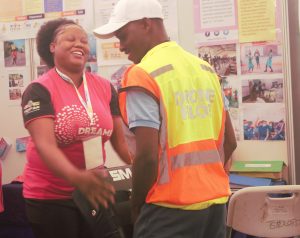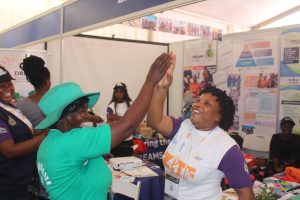 ZimPAAC took part in the 2023 63rd edition of the Zimbabwe International Trade Fare which was launched pre-Independence and adopted the current name in 1980. The ZimPAAC consortium was fully represented by officers and community cadres from three organizations namely Zim-TTECH, PZAT, and Bantwana Zimbabwe. More than 100 dignitaries visited the stand and more than 300 visitors including beneficiaries of the project. People visited the ZimPAAC stand, of interest was the economic strengthening table which had home-made materials from the beneficiaries and live testimonies done by the beneficiaries of the project on the stand.
The consortium was showcasing the DREAMS primary and secondary packages. Community cadres. Community cadres were well-versed in the program's thematic areas and explained the objectives of the program and shared success stories. Officers were supporting the team with an in-depth explanation of all the packages and protocols for the project. Profiles, pictures samples, and tools were used to explain the DREAMS continuum for a better understanding of all the interventions. DREAMS district mentor (Tsholotsho) had an opportunity to explain the entry points in DREAMS, as well as the primary package and No Means No intervention for the 10-14 in-school beneficiaries to U. S Embassy Zimbabwe Charge d'Affaires.
Engaging men as sex partners of AGYW is of importance in the DREAMS program. During the ZITF exhibition men who visited the ZimPAAC stand had an opportunity to appreciate the DREAMS program and the great work being done in Mat-North. Distribution of condoms was done, and the PrEP champion present was able to illustrate how she creates demand for PrEP in communities and strengthens the linkages and uptake of PrEP services as well as how she works with DREAMS Ambassadors to track AGYW who will have defaulted.
The DREAMS Program Nurse played a pivotal role during the ZITF exhibition. 50 HIV self-test kits were distributed. Condom promotion and distribution were done. Demonstration of how menstrual cups are used was done to visitors who showed interest, AGYW who visited the stand were interested in the menstrual cup, 10 menstrual cups were distributed.
Articles placed.
Meet Sitheni Ncube, our DREAMS district mentor from the Tsholotsho district. She has been mentoring girls for a year. Her dream growing up has always been to work with girls in disadvantaged communities. She has experience in counselling acquired during her nurse aid training and working with an average of 1000 girls since 2021 to date. Her dedication and passion for her work are shown through interaction with visitors and girls at ZITF. She demonstrates the importance of mentoring girls to attain a Determined, Resilient, Empowered AIDS-free, Mentored and Safe girl.
Through innovations and regular feedback, DREAMS scaled up on mentorship in 2022, by recruiting DREAMS district mentors for each district being supported. Their role is to ensure AGYW understands the DREAMS primary package, creating demand for clinical services and linking AGYW to skills training with the aim of stirring AGYW towards employment and entrepreneurship. DREAMS Mentors are therefore actively involved in safe spaces, collaborating with community-based cadres to ensure the reduction of HIV-related risks. Furthermore, the DREAMS Mentors support AGYW and community-based mentors as well as other officers to venture into educational pathways to realize their full potential and make aspirations come true.
# ZITF 2023: Pre-exposure prophylaxis or "PrEP" is the use of an antiretroviral medication by HIV-negative people to reduce the risk of HIV acquisition. People at substantial risk of HIV infection should be offered PrEP as an additional prevention choice. Oral PrEP is highly effective at preventing HIV when used as directed.
PrEP champions among other community health cadres are strengthening the linkage and uptake of PrEP services and tracking among AGYW in their catchment areas. Mobilise AGYW for HIV combination prevention interventions through social interaction and snowballing. Meet Lubelihle Mkandla PrEP Champion from Nkayi in Mat North
#ZITF 2023. DREAMS is an HIV prevention program that aims to contribute to the reduction of HIV incidences amongst AGYW utilizing a multi-sectoral approach. Clinical service provision is a critical element of the DREAMS core package as it empowers AGYW to reduce biomedical-related risks. Meet Nothando, a youth-friendly DREAMS Clinical Nurse who provides Clinical services in Tsholotsho, she has been actively providing services at the ZITF to AGYW and males in efforts to normalize access to Clinical services within communities. Thumbs up to the ZimPAAC 20 nurses who provide person-centred clinical services.
It is almost midday in Tshiyakwakhiwe village, Dlamini in Tsholotsho, the scorching sun's intense rays' heat glares down my neck and I quickly break out into more than a little sweat. Loud squeaky voices and cows bellow can be heard from a distance approaching the Gombalume safe space. Tall trees give plenty of shade under the blazing sun and we all rush to take shade while a group of young girls approach us and take shade under the trees next to us.
Among the group of Adolescent girls and young women that arrive one girl with a baby on her back stood out as she confidently greets us and introduces herself. Her name is Lucia Ncube and she is 19years from Tshiyakwakhiwe village ward 2 of Tsholotsho district. Her confidence stuns all of us and we wonder how such a young innocent girl has a 4 month old baby,
"I innocently fell in love with my boyfriend and because of young and immature love we quickly started engaging in sexual activities. He assured me that I was not going to get pregnant if we indulge for the first time and he promised he was not going to impregnate me. I naively believed him and I gave in. A month later, a bomb dropped on me, I was pregnant," narrated a bright-faced Lucia, you would expect her to sadly share her story but that was not the case with her.
Born and bred in Tsholotsho, one of the most conserved communities in Zimbabwe, Lucia had little to no information on her Sexual Reproductive Health Rights and this was a taboo conversation to be discussed in a family setup,
"Growing up, we never discussed issues to do with practicing safe sex , family planning, and sex in general. As a young girl I was discouraged to talk about such issues. I could have practiced safe sex, avoided pregnancy and being a mother at a young age," she said.
"Use of any family planning methods was unheard of especially for Adolescent Girls and Young Women who would have never had children. Family planning was attached to myths of possible lifetime infertility yet every woman`s dream is to breastfeed at some point in their life," shared Lucia.
In January 2022, Lucia enrolled in the Zimbabwe Partnership to Accelerate AIDS Control (ZimPAAC), supported DREAMS program that is being implemented in the Matabeleland North province of Zimbabwe in Lupane, Tsholotsho, Bubi and Nkayi districts.
"The DREAMS program has changed my life for the better. It has opened my eyes. If I had had the information I have now earlier my life would have been different. However there is no need to cry over spilled milk, I have decided to make my life better for me and my son," said Lucia
" Now I know how to protect myself while practicing safe sex, I know how to avoid unwanted pregnancies, I have access to family planning methods, HIV self-testing and the use of Pre- Exposure Prophylaxis. Through the Health4Life sessions I have learnt that I have rights to protect myself and my body, I have learnt about financial literacy and how important it is for me to save and start my own business. This is something I had never thought of but now I need to build a bright future for my son."
"We were trained on ISALS and we have started a group with my friends and we intended to assist each other start a business and build a better future for us," She said.
Lucia is one of the 27 000 AGYW mentored through the DREAMS program to date to enhance knowledge, strengthen social protection of AGYW, and build social assets. The DREAMS program seeks to reduce new HIV infections among the most vulnerable adolescent girls and young women by 40% in the highest HIV burden districts in Zimbabwe. DREAMS implementing partners (Bantwana and Pangaea Zimbabwe AIDS Trust) under the ZImPAAC consortium prioritize AGYW's health, wellbeing, and HIV epidemic control through the provision of evidence-based curricular and need-based secondary services.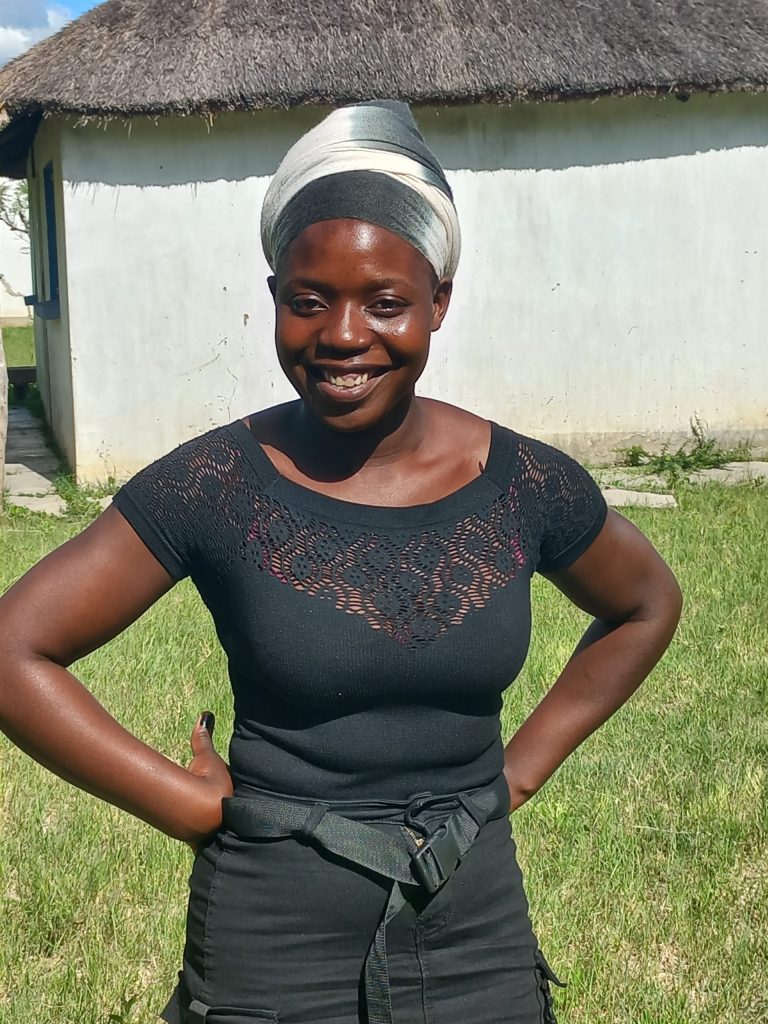 Located about 98 km north-west of Bulawayo, the second largest city of Zimbabwe, lies the Tsholotsho growthpoint The main economic activity in Tsholotsho is farming however the soils are bad for cultivation which then deprives young people in this area of economic activity in farming. Young people with no economic activity are at risk of contracting HIV and AIDS especially Adolescent girls and young women (AGYW). Petra Sibanda (22), one of the Community based facilitators of ward 3, Kopane village in Tsholotsho, is one of the many AGYW that the Determined, Resilient, Empowered, AIDS-free, Mentored and Safe (DREAMS) project has positively impacted in Matabeleland North province of Zimbabwe.
Petra who became a mother at 16, believes if she had gotten the information she got through the DREAMS project earlier she would have made better choices. After falling pregnant with no immediate plans to be parents, Petra and the father of the child panicked which resulted in the father refusing to be a part of the baby's life,
"When I got pregnant, I did not have sufficient information on how to protect myself, we were young. It was not an easy pregnancy and having to do it alone was even harder," she said.
After giving birth to her baby girl, Petra heard about the Dreams project from the Head nurse at the clinic in her village, she quickly applied for the Community based Facilitator role and was successful.
"The DREAMS project changed my life, now I know that I have the right to protect myself from unwanted pregnancies and contracting HIV, AIDS and STIs. I have insight as to how PreP works and with access to such information I can simply say I am empowered and no one can violate me," said bright-eyed Petra.
Every Adolescent girl and young woman dreams of a future in which they are empowered and are able to pursue their dreams. Petra dreams of becoming an Accountant one day and as a CBF, she encourages AGYW to protect themselves and be empowered to reduce the risk of contracting HIV through Health4life sessions where they have youth friendly reproductive health sessions on condom use, Prep uptake, stigma and discrimination.
The DREAMS project has changed Petra's life. She now lives a life of purpose and inspires other AGYW in her community to live a healthy and dignified life.